Locally Produced Eggs vs. Commercial Eggs
Nutrients in the eggs greatly influence by the chicken's living environment. Chickens need grazing

and constant access to the outdoors to produce eggs high in nutrients. Sunlight and soil grazing are needed for quality eggs. Industrial chicken houses offer the chickens a quick outdoor venture each day as their only exposure to the outdoors; local farms have the hens in an outdoor pen all the time. Claims made by industrial egg producers wildly exaggerate the quality of their eggs. The fact is, compared to conventional store-bought eggs, local farmed eggs have:
1/3 less cholesterol
1/4 less saturated fat
2/3 more vitamin A
two times more omega-3 fatty acids
three times more vitamin E
seven times more beta carotene - converts to vitamin A
most recently noted, 4-6 times more vitamin D
Eggshells can vary widely in color, althought the most common are white and brown. The eggshell color varies from breed to breed, and has no real significance as to the nutritional value or quality of the egg. However, it is interesting to note that most commercial egg producers use breeds that lay white eggs, because these chickens eat less and produce a higher quantity and lower quality -- good for the bottom line. But these chickens are usually housed in small cages and are given antibiotics that end up tainting the eggs with chemicals.

Caged hens on commercial farms receive a less diverse nutritious diet than the open-air penned hen, so commercial hens often have a lighter-colored yolk. The locally farmed chicken typically has a richer diet, producing darker yolks which are more nutritious than those produced at commercial farms.

As you can see, it is very important to buy local eggs. If you need to find a source for these, visit your local farmer's market or check a directory of local dairy farms.

NOTE: The term "free-range" is descriptive, yet vague. It is often used to give the impression that the chicken is roaming free all day. But, in practice, it is used to describe outside access of one minute or longer throughout the day. So, this description can be quite misleading, and we're reluctant to use that phrase.
---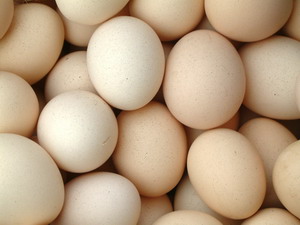 Always Fresh and Delicious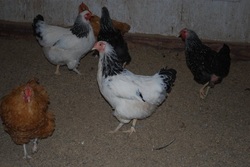 At East Rivendell Farm, our chickens produce 100+ eggs daily throughout the year. So, you can be sure of freshness. The chickens are housed in large outdoor pens that allow access to open outdoor space for half the day. (Of course, for the animal's protection, each pen has an encloseure to assure they are safe from natural predators -- ie. fox, hawk. These predators would like nothing more than to see defenseless chickens running around or eggs scattered for the taking.)


---
---
* All Farm Photos Taken by Hannah Fraley